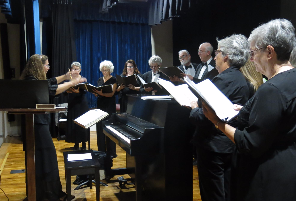 Pickens Concert Choir is a choral group made up of singers from the greater Pickens area. We sing a variety of styles of music from different time periods put together into an evening of enjoyment for all. From classical to folk and popular music, our all-volunteer group strives for a professional level performance at an affordable local price. Some works are well known and others are ones that we would like to introduce to you and are sure to become some of your new favorites. We come together as a group to enjoy singing with our fellow musicians and we believe it shows in our performances. You will experience a lively and at the same time reflective and thought provoking performance. We hope you will join us for our upcoming performances!
Our Director - Carla Padgett
Ms. Padgett has roots in Pickens County and felt that it was important to add a classical option to the menu of musical offerings in the greater Pickens area. She founded the choir in 2016 and was happy to find a group of willing singers who love the music and have worked hard to produce a series of concerts in a variety of styles. She is a pianist, violinist, organist, composer and plays professionally as well as directs the Pickens Concert Choir and teaches. She currently serves as a substitute organist and choir director for churches in the upstate area.
If you are interested in singing with us, please send an email giving your name and contact information as well as singing experience. We have limited space available, so we will call or email you and let you know if we currently have spaces available for your vocal range and how to proceed or add you to a waiting or substitute list.